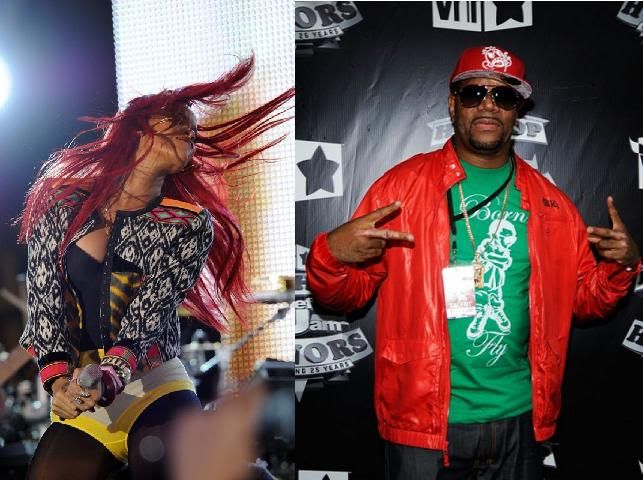 Ever the center of attention, scandal and controversy, Rihanna decided to set the record straight with Power 105′s Ed Lover show. She talked about Nicki Minaj's writing ability, how bloggers hate their lives, dropping the F-Bomb in front of children and of course her current project 'Loud.' Check out the full interview with Ed Lover and Malikha Mallette below:
On Nicki Minaj:
Nicki Minaj wrote for Rihanna on Rated R….I remember her sending me incredible ballads that I couldn't believe an MC wrote. She is a great songwriter.
On Fashion
She loves to shop at H&M and she actually goes in the store herself to pick her own clothes out. She says she has to touch the clothes to make sure it won't itch. She admits to being caught by the paparrazi in the same jeans 2 days in a row and she does not care. If she buys something and she really likes it she will wear it again.
On the "F- you necklace"
She had the necklace on for a few days. She had showered in it and slept in it. She forgot about it being on. She was on her way to dinner and between walking from the hotel to the car the kids stopped her for a photo. She never says no to kids. She was not thinking about the necklace when she took the photo.
On Matt Kemp
She admits to being in love with him. She goes to some baseball games but she stopped going in an effort to keep work separate. She knows nothing about the sport of baseball.
On Drake and recording "What's My Name" with him
She comments on when Drake said that she used him. I would definitely say that was wrong and he does not know what he is talking about. We just became friends and we left it at that. Drake has a youthful thing about him and he is very melodic with the way he writes and I felt I needed someone like that for "Whats My Name."
On reading blogs
She reads the blogs sometimes. She's a lot more numb to what people write about her. It's a community for people who have nothing else to do and hate themselves, they hate their life, they hate their job, they hate their appearance, they are uncomfortable with who they are so what makes them feel good is talking smack about other people who they think they will never ever see in their life and they happen to be celebrities so they get to hide behind their computer.
Funniest rumor she ever heard about herself
Dating (LA Laker) Andrew Bynum. Datewise? I just couldn't believe they insulted me like that. No, i'm just kidding he is just not my type.
–
Source: Thanks to the Ed Lover Morning Show producer Sarah O'Connor for the story.
The audio to the interview can be heard at The Ed Lover Show online.
Follow The Media Mogul on Twitter @VonniMediaMogul
What did you think about this post? Leave your comment in the box below. Thank you!