Who would have ever thought a young woman from the quaint English village of Bucklebury would grow up to marry a prince?
Well that is exactly what is going to take place at Westminster Abbey on April 29, 2010.
Kate Middleton graces the cover of People magazine December 6, 2010 issue. The magazine dubs her as "the independent young woman who captured a prince's heart."
Everyone young girl dreams of marrying prince charming. Kate's dreams have come true because on Friday, April 29, 2010 she will be marry Prince William (son of Prince Charles and the late Princess Diana).
The wedding will take place at Westminster Abbey. The venue can be deemed a circle of life, because it is the same venue that held Princess Diana's funeral as well as the wedding of the Queen mother and the Queen.
Kate and the Prince have been dating for eight years. He said he waited so long to pop the question, because he knew once she said yes she would lose her privacy and this would "give her a chance to back out if she needed to before it all got too much."
The Prince gave Kate his mother's 18-carat sapphire and diamond ring. The ring is by Garrard and was worth $42,000 in 1981, now worth $500,000.
The sapphire ring was presented to his mother Diana Spencer, 20 at the time by his father Prince Charles, 28 at the time.
Wendy Williams of The Wendy Williams Show said on Friday that she did not think the Prince giving his mother's engagement ring to Kate was a good idea considering the tragic marriage of his parents.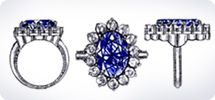 If you would like to have a copy of this ring then get over to QVC.com. The television retail behemoth has a cubic zirconia knockoff "1/18 KJL Princess Simulated Sapphire Ring" for a featured price of $39.54. Their regular price is $43.50.
There has not been such hoopla over a royal wedding since the wedding of Prince Charles and Princess Diana.
"There's no charm school for princesses," says Ingrid Seward, editor-in-chief of Majesty Magazine. "It's sink or swim."
Princess Diana was adored by the world and dubbed the "People's Princess."
Will Kate have big shoes to fill?
Prince Williams said, "No one is trying to fill my mother's shoes. What she did is fantastic. it's about making your own destiny, and kate will do a very good job of that."
As soon as the engagement was formerly announced to the world, Kate was fitted with an around the clock security detail.
The couple, both 28 met at the University of St. Andrews in Scotland where they both majored in Art History.
With more than one billion people expected to watch the wedding in April, that one little word "privacy" will almost be non-existent for Kate and her Prince.
According to People magazine, "After the wedding the couple will live in a white-walled farmhouse that William currently rents in a secluded, rural corner of North Wales, where he serves as a helicopter rescue pilot for the Royal Air Force."
She currently lives with her family in an English village called Bucklebury.
Kate is the eldest of three children (Phillippa "Pippa" Charlotte, 27 and James, 23) born to Michael 61, and Carole 55.
Snoop Dogg will be one of the acts performing at the Prince's engagement party.
What did you think about this post? Leave your comment in the box below. Thank you!